Team Magic driver Walter Pollet-Villard wins the first round of the 2013-2014 SITCC series (Swiss Indoor Touring Car Championship) @ Geneva with his Team Magic E4RS II EVO.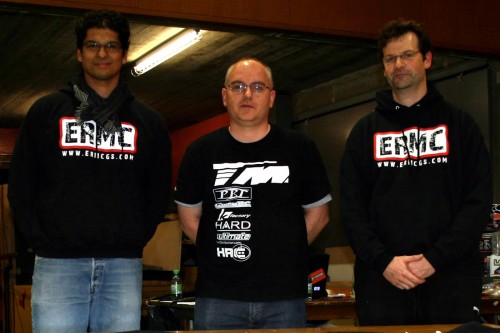 Not less than 68 drivers was present for the first round of SITCC on the mythic track of the ERMC @ Geneva. Walter, current 2012-2013 SITCC Champion came with his teammates Patrice Carpano and Emilie Cruz to defend his title.
After missing the pole-position due to a wrong setup choice on the low grip conditions during the qualifications, Walter won the two 8-minutes final runs; while Patrice Carpano finishes on second place of the B-finale and Emilie Cruz won the C final. Great team result !!
A Final:
1. Walter Pollet-Villard – Team Magic E4RS II EVO / KFactory / HRC
2. Jean-Marc Betticher
3. Cham Dassayanake
4. Antonio Alj
5. Arthur Brule
6. Arnaud Soulignac
7. Vincent Cavard
8. Paul Franceschi
B Final:
1. Juan Cachafeiro
2. Patrice Carpano – Team Magic E4RS II EVO / KFactory / HRC
3. Francois Bossetti
4. Vincent Guigli
5. Alexandre Amort
6. Cedric Leger
7. Luc Lavergnat
8. Nicolas Crausaz
C Final:
1. Emilie Cruz – Team Magic E4RS II EVO / KFactory / HRC
2. Raffaele Tolotta
3. Christophe Schmidt
4. Nicolas Huguenin
5. Frederic Beys
6. Alexis Banderier
7. Yann Vigny
8. Israel Solis Gomez
Picture courtesy of OverRC