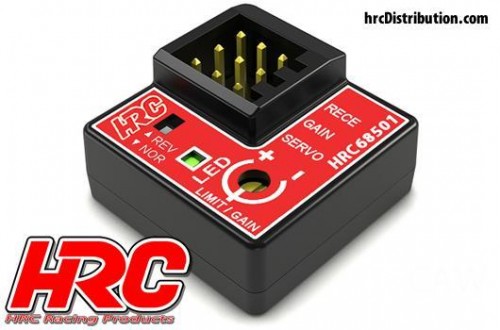 Especially designed for RC Drift Cars, Formula 1 and Pan Cars; works also very good in any RC Car.

Steering corrections and adjustments on your RC car:
The HRC68501 gyro allows you to drive your RC car more precisely, by making your car
more manageable, more controllable and more stable.
Remote gain function:
The HRC68501 gyro allows you to adjust the gain from the 3rd channel of your transmitter using the remote gain function. Gain can also be adjusted directly with the trimmer on the gyro.
Ultra compact and lightweight device:
The HRC68501 gyro is ultra comptact (21x21x11mm) and lightweight (3.6g). It could be installed in any 1/18~1/5 RC Car.