We received 2014 results summary from our friends of Team Magic Chile; showing fantastic results in Club Championships as well as National Championship. On these results, we can see that Tomas Ramirez is 2014 National Championship with his Team Magic E4JS II !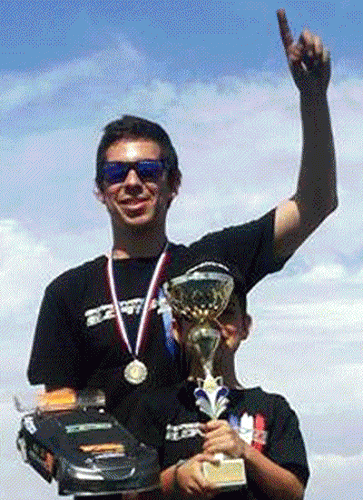 Off course, RC racing in this country isn't strong like here, in Europe; but the interest is growing and the racer's level increases quickly, due to the involvement of people like Alejandro Pérez Puga of Team Magic Chile who is working hard to develop RC Racing in his country.
"During the national championship, we decided to test the E4JS II as a real competition car for show the new generation of Team Magic chasis, very strong chassis and confidence, using the same setup than E4RS II EVO".
Chilean National Championship 2014 – 1/10 Touring:
1. Tomas Ramirez – Team Magic E4JS II
2. Alvaro Jara
3. Mauricio Wetter
4. Ernesto Grez – Team Magic E4RS II Evo
5. Alejandro Puga – Team Magic E4RS II Evo
6. Carlos Hartmann
7. Claudio Navarro
8. Rodrigo Valenzuela
9. Cristian Hartmann
10. J. Carlos Abugarade – Team Magic E4RS II Evo
11. Marcelo Echeverria
12. Christian Montes
13. Joaquin Valenzuela
14. Kako Valenzuela
15. Alvaro Jara Jr.
16. Tomas Ureta – Team Magic E4JS II
17. Andres Molina
18. Angelo Vilaza
19. Miguel Tamburini
20. Sergio Petricio
21. Sebastian Herrera
22. Sebastian Diaz
23. Daniel Lopez
24. Pablo Suarez
25. Luis Vasquez – Team Magic E4RS II Evo
UAndesRC Club Championship – Spring Championship (Apertura 2014):
1. Tomas Ramirez – Team Magic E4JS II
2. Ernesto Grez – Team Magic E4RS II Evo
3. Alejandro Pérez – Team Magic E4RS II Evo
4. Benjamin Ramirez
5. J. Carlos Abugarade – Team Magic E4RS II Evo
6. Tomas Ureta – Team Magic E4JS II
7. Sebastian Contreras – Team Magic E4JS II
8. Cristian Leiva
9. Francisco Vergara
10. Sebastian Diaz
11. Paolo Tamburini
12. Cristobal Guerra – Team Magic E4JS II
13. Fernando Vergara
14. Angelo Vilaza
15. Claudio – Team Magic E4JS II
16. Joaquin Ureta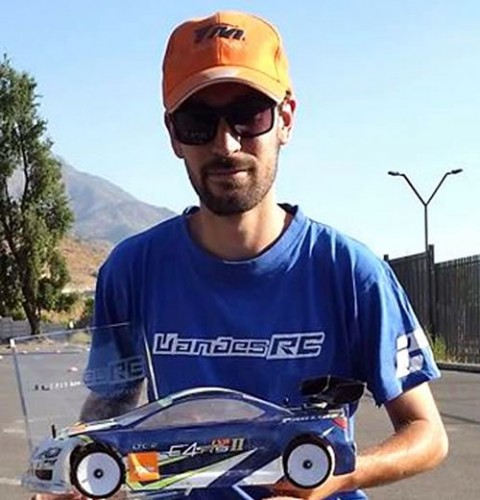 UAndesRC Club Championship – Autumn Championship (Clausura 2014):
1. Ernesto Grez – Team Magic E4RS II Evo
2. Alejandro Pérez – Team Magic E4RS II Evo
3. Tomas Ramirez – Team Magic E4RS II Evo
4. Benjamin Ramirez
5. Tomas Ureta – Team Magic E4JS II
6. J. Carlos Abugarade – Team Magic E4RS II Evo
7. Cristian Leiva
8. Cristobal Guerra – Team Magic E4JS II
9. Tomas Contreras
10. Fred Varillas – Team Magic E4JS II
11. Sebastian Diaz
Minituerkas Club Championship 2014 (8.5 motor):
1. Lopez Daniel
2. Ramirez Tomas – Team Magic E4RS II Evo
3. Camacho Roberto
4. Tamburini Miguel
5. Selles Jose Miguel
6. Vilaza Angelo
7. Grez Ernesto – Team Magic E4RS II Evo
8. Jara Alvaro
9. Vasquez Luis – Team Magic E4RS II Evo
10. Echeverria Marcelo
11. Argandoña Eduardo
12. Navarro Claudio – Team Magic E4JS II
13. Puelma Reimundo – Team Magic E4JS II
14. Olibos Pablo
15. Aguilar Patricio
16. Urive Naldo
17. Chacana Alejandro
18. Carvallo Thiago