Another great and emotional achievement for our small brand and small team: Thomas Vigneron is crowned 2016 MODIFIED FRENCH NATIONAL CHAMPION !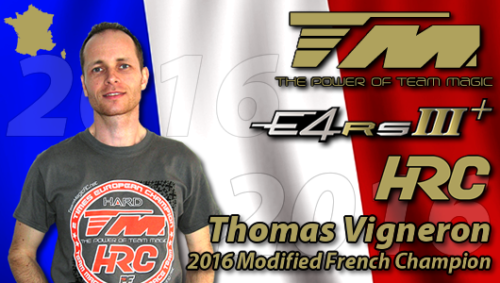 This is a well deserved title for this talented and very friendly driver who joined our team end 2015 after many hesitations about chassis brand; it's not always easy to choose a small brand VS big names, and Thomas showed it pays !
This title is the result of a good cooperation between the french TM drivers, like of course Thomas Vigneron, but also Cyril N'Diaye, Rémi Callens and many others.
Congratulation Thomas, we are very happy for you !
Team Magic material used by Thomas:
TM507008 – Team Magic E4RS III Plus Touring Car Kit
TM153010 – PRO Linear Touring Car Springs Set
TM153020 – PRO Progressive Touring Car Springs Set
TM507266 – Front Belt Tensioner
TM507289 – Aluminum Pulley
TM507306P – PU Reinforced Rear Belt
TM507343 – Aluminum Fan Mount for 25/30mm Fans
TM507431-1 – Nunchaku Dogbones without Blades
TM507435-1 – Diff Outdrives without Blades
And also HRC Racing Spur Gears and Protoform Bodies.