Hello to all !
There are some news concerning first Team Magic Workshop, at EZ Racing Track (ETS Carpet) at Antwerpen (Belgium), the 17 and 18 December.
Free gift to all TM users:
All Team Magic users participating the workshop will receive a free package of some plastic parts as gift, offered by Team Magic.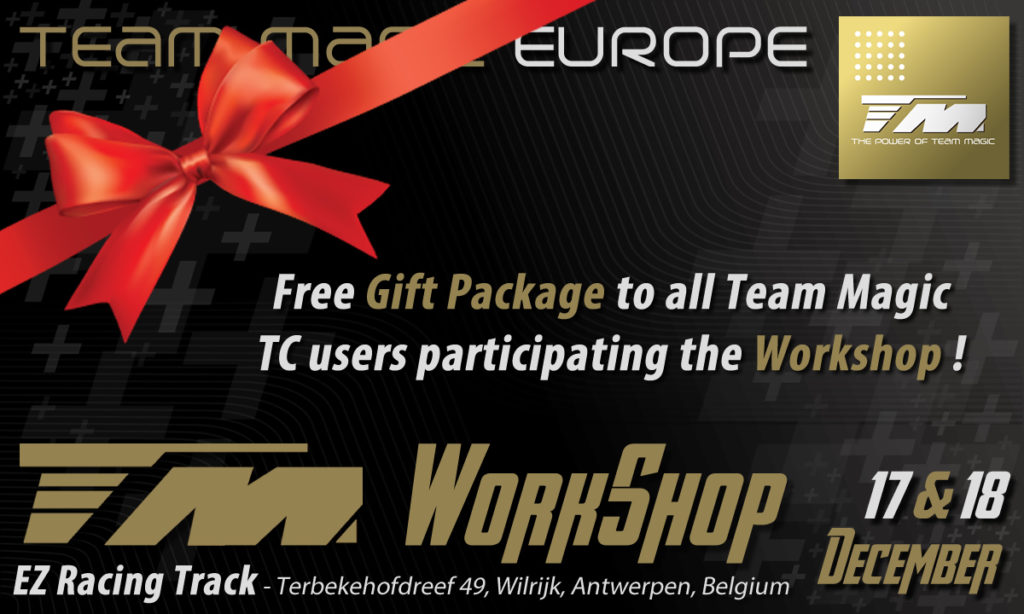 To receive the package, user need to be owner of one of these models: E4RS II / E4JS II / E4JR II / E4RS II Evo / E4RS III / E4RS III Plus.
This package includes usual plastic parts like C-hubs, steering blocks, suspension arms etc.
Official Team Drivers participation:
Many of the official Team Magic drivers have already confirmed their participation as you can see bellow.  Don't hesitate to come to meet them !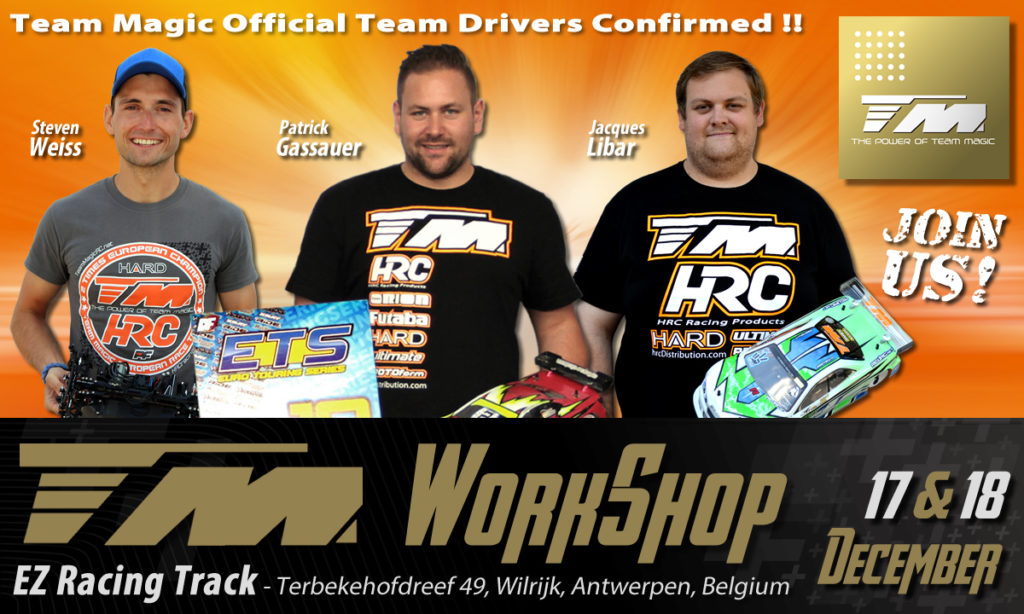 Saturday AND Sunday:
Patrick Gassauer from Germany
Steven Weiss from Germany
Rémi Callens from France
Pasquinel Neys from Belgium
Jordy Dubuis from Switzerland
Lionel Troyon from Switzerland (manager)
Saturday Only:
Rob Janssen from Netherlands
Richard Arts from Netherlands
Jacques Libar from Luxembourg
Luca Becker from Luxembourg
Michael Spiering from Germany
Other drivers are also participating, especially from Belgium, but didn't had confirmed which day they are coming yet.
Official Team Magic Retailer:
RC Shop Menen / Hubert Cathelain will be there on Sunday. If you already know that you need something, don't hesitate to contact him (0032 56 25 61 11).
Shop Adress:
RC Shop Menen
Moeskroenstraat 63
BE-8930 Menen
Important notice: HRC Distribution don't sell directly. If you need parts during the event, only RC Shop Menen / Hubert Cathelain is able to provide them to you.
Time Schedule, diverse information: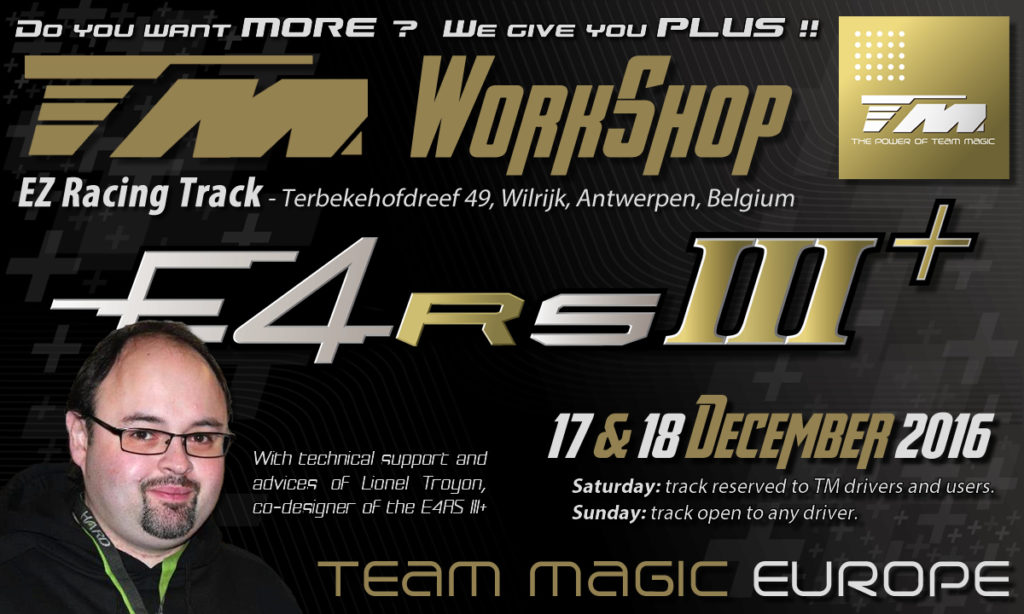 You can find all the details concerning the first Team Magic Workshop on this linked page; like time schedule, track fees, conditions etc.
Track Location: EZ Racing Track – Terbekehofdreef 49, Wilrijk, Antwerpen, Belgium.
Saturday – track open for Team Magic users:
Any Team Magic user and privateer, with any Team Magic car is welcome during the Workshop. We will be pleased to meet any Team Magic user.
Of course, only the touring cars will be allowed to run on the track.
Sunday – track open for ALL rc drivers:
Any driver of any brand is welcome on Sunday. It will be a pleasure to meet any RC racer, for a friendly training session on a nice track with ETS carpet.
Don't hesitate to join us, for this special event, just a few day before Christmas and New Year festivities, we will welcome all of us with a friendly and open spirit.