Firstly, the staff of Team Magic Taïwan and HRC Distribution / Team Magic Europe would like to thanks all the drivers, team or privateers, who participated to the workshop at EZ Racing Track in Belgium, as well as all the organisers.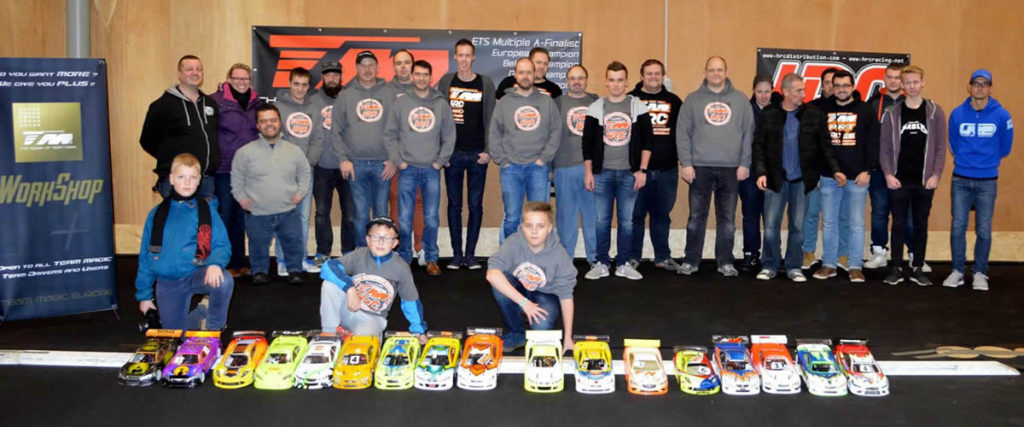 THANK YOU ALL !
Report from Lionel Troyon – Team Manager
This first Team Magic Workshop is a nice success, with many drivers come from different countries: Netherlands, Germany, Luxembourg, France, Switzerland and of course Belgium.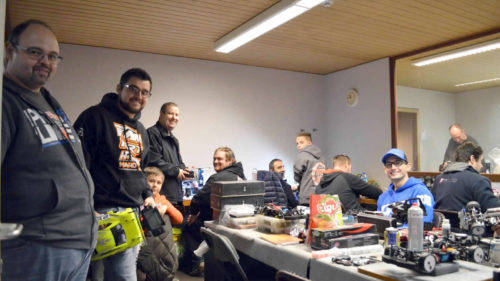 I'm personally very proud of all the Team Magic drivers, for the great teamwork, and the very good atmosphere between so many different people. It was a very good opportunity for each of us to meet many other drivers and to discuss in a cool spirit, without competition in mind.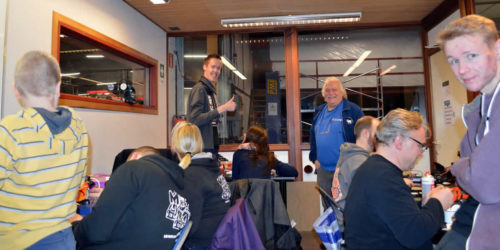 I received many good message of people happy to had the opportunity to learn from top drivers like Patrick Gassauer, Steven Weiss, Rob Janssen, Rémi Callens or Jacques Libar, and also to drive on same time, on same track, and with the same car.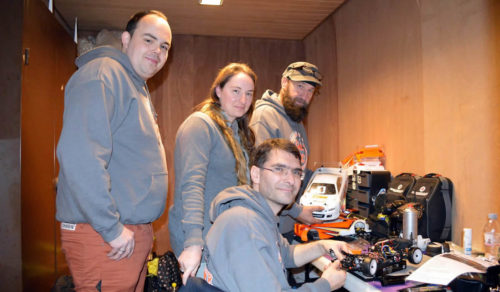 TM Taïwan and HRC Distribution gave me free parts packages for each participant; a special gift, I completed by some swiss X-mas chocolates and candies, all highly appreciated by the drivers !
—————————–
TM Historic Prototypes:
Two old prototypes was there to show some special stuff and to demonstrate how could be the process to create or develop a new car.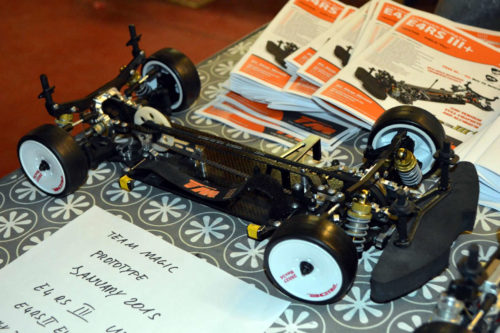 One is the 2015 E4RS III Prototype, built with some E4RS II Evo parts around new basis and elements.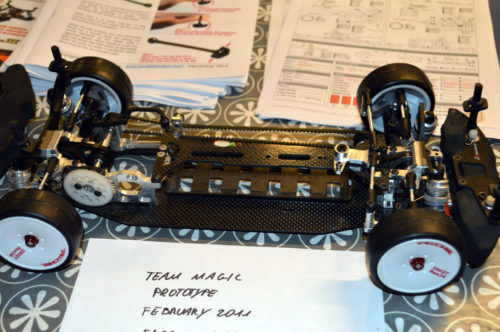 The second one is older, 2011 version (never released) of the very special and original E4RS (3 belts basis), project aborted after the decision to switch to a two-belts basis, the E4RS II Black Magic.
—————————–
On the track:
Of course, all the drivers made tests on the track (ETS carpet), and worked a lot on setups.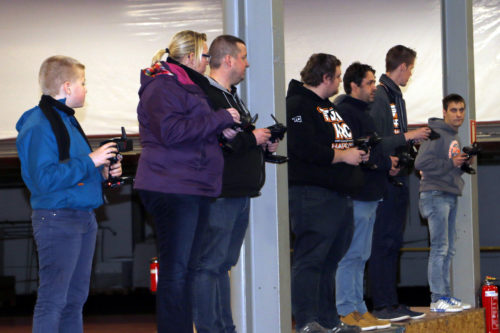 Many drivers had the possibility to drive with top drivers, like Steven Weiss, Patrick Gassauer, Rémi Callens, Rob Janssen and Jacques Libar – something usually not possible during races – to learn where they can improve driving line or style, in a very good spirit, as there was no competition.
—————————–
Thanks:
Firstly, a HUGE thank you to the people of EZ Racing Track for the great hospitality, making the event absolutely great.
Thank you again and again to every people who participated to this event. Thank you for coming guys !
Special thanks to Steven Weiss who add to manage job to have a free saturday especially to be able to participate the event; as well as any other people who add arrange his own venue. Thanks also for people who made hours of travel to join us.
Special thanks #2 to Bruno Geirnaert for some pictures of this report.
Personal thanks to Jordy, Steven, Patrick and Edgar for the nice saturday evening at restaurant, it has been funny as usual.
I wish to all of you all the best in RC and in your life, enjoy RC with a fair spirit. It's also the good period to wish you all a Merry Christmas and a Happy New Year.
Lionel Troyon – Team Magic / HRC team manager
—————————–
Picture gallery: