Team Magic factory driver and regular ETS A-finalist, Patrick Gassauer. will assist all Team Magic drivers and users during the ETS round 3 at Madrid in Spain.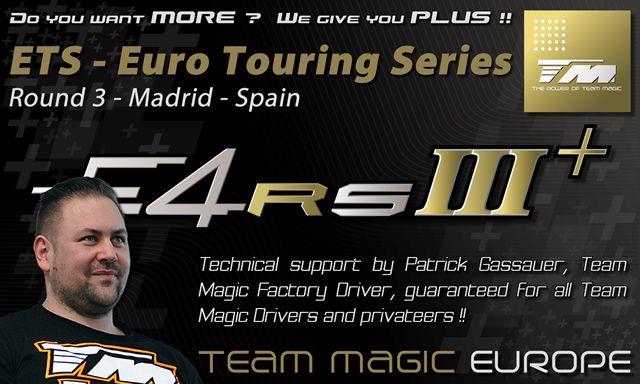 ————————-
Statement from Lionel Troyon – Team Magic Europe team manager:
2016-2017 are key years for both Team Magic and HRC Distribution, which are both monthly growing and increasing their respective positions on the market, due to important and favourable market changes in Europe, which enforce position of distributors like HRC.
To respond to this very nice situation, we have many projects to develop and finish; both for HRC Racing and Team Magic brands. Due to extra job issues, I will not be able to assist the Team Magic drivers and users during some of the ETS rounds in 2017, like Madrid the 6~10 april.
For this reason, I appointed Patrick Gassauer, which is factory driver since years, to manage the assistance to Team Magic users, with advice and parts, during the ETS events where I'm not able to go. This will maintain the service quality.
As many of you know, RC Racing is my life since 28 years now… so, I will be back soon in the pits.
I wish you all to have fun and success; see you soon !
Lionel Troyon – Team Magic team manager.