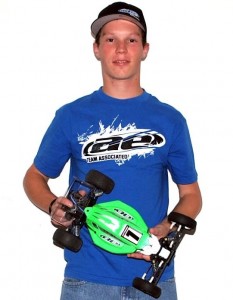 Swiss ace, Arnaud Buffat / HRC team driver, did another great performance during the round 3 of the SIORC (Swiss Indoor Off Road Championship) series at Geneva, with not less than 100 drivers !
In 2WD category, Arnaud set the Pole Position with his Team Associated B4.2 equiped with Centro conversion kit; and finished 2nd after a hard battle with multiple Swiss Champion Jean-Marc Betticher and Cham Dassanayake.
In 4WD category, Arnaud qualified his all-new B44.2 on the second place, and obtained a great victory during the final rounds !
2WD A-Final Results:
1. Jean-Marc Betticher
2. Arnaud Buffat (TQ) – Team Associated B44.2 / GreenRC / Reedy
3. Cham Dassayanake
4. Paul Franceschi
5. Didier Baltensperger
6. Joachim Kallen
7. Cyrille Gruaz
8. David Naldini
9. Xavier Ansellem
10. Yael Zurflüh
4WD A-Final Results:
1. Arnaud Buffat – Team Associated B44.2 / GreenRC / Reedy
2. Arthur Brule
3. Joao Godinho
4. Paul Franceschi
5. Romain Hecq
6. Vincent Cavard
7. Cedric Guillaud
8. Cham Dassayanake (TQ)
9. Stephane Kneubühl
10. Sebastien Cuanoud