Team Drivers Jacques Libar wins the first 1/10 Touring National Luxembourg Championship round at the mythic track of LMCC Luxembourg.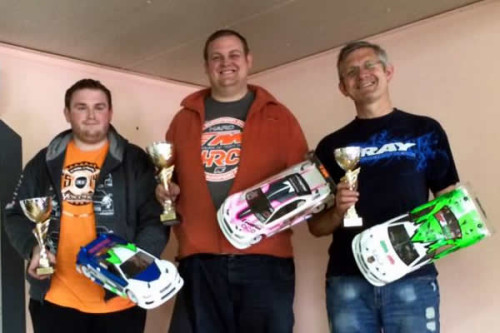 Here, the original report of Jacques Libar:
We had our first national championship round at my local club in Luxembourg, the LMCC.
On Saturday was perfect weather, sunshine with 22 degrees and a perfect track. My team mate Mathieu Picaudé and me had some nice practice. After different set-up changes and tests my car feels quite good. The set-up tips of Patrick Gassauer in Italy on the ETS helped a lot. I managed to made a personal new Lap record with 20,2″. The car of Mathieu got also better and better and he made a best lap of 20,4″.
On Sunday the weather forecast was really bad but everybody hoped that the weather god will be on our side. Meanwhile the first qualification started and the car felt very good. Only 0,1″s slower on my fastest lap then yesterday. I TQ, Second was Mathieu and one more Team Magic driver Jérémy Clavey in Top 10. The second qualification was a wet run so we started and then it started to rain, so everybody stopped during the rain. The third qualification round was dry again. I started with the same set-up and managed to make a better run then the first one. With a 5 second lead I had the Pole Position, followed by Mathieu and on third my brother Laurent. Jérémy got P5. So all Team Magic drivers in the A-Main.
The finals were wet again. In the first final I lost my TQ spot against my brother but with clean driving I could pass again and won the final. During the rain Mathieu decided to not run this final, Jérémy tried to prepare his car for rain but he managed only to made one lap. Second final, same as first wet again. I tried something different on my car and could stay this time 5 minutes in front. Followed by Jérémy on P6 and Mathieu on P7. Third final I switched from rain tyres to normal tyres again, this was a bad choice. So this time I made a drift challenge and ended on P6, in front of me on P5 Jérémy and P7 for Mathieu.
The end result was so: Me on 1st place, Jérémy on P6 and Mathieu on P7.
Overall Ranking:
1. Jacques Libar – Team Magic E4RS III Plus / HRC Racing
2. Laurent Libar
3. Marcel Dubru
4. Gerry Kimmel
5. Laurent Treis
6. Jeremy Clavey – Team Magic E4RS III Plus / HRC Racing
7. Mathieu Picaudé – Team Magic E4RS III Plus / HRC Racing
8. Florian Joos
9. Raymond Weydert
10. Dirk Rischard
11. Eric Schaal
12. Yannis Faivre
13. Steve Jacoby
14. Patrick Beltrallo