Team Magic E4RS II driver Lionel Troyon takes part of the first round of ART Winter Championship 2012-2013 held on the new and fantastic racing hall in Münsigen (Bern).
Many local driver as people from other clubs were present for the event.
The ART facilities are simply amazing and very pleasant for every RC driver. The track isn't the biggest, but is clearly well designed, especially for 1/12 on road cars.
Lionel discovered the track in qualification round, and adapted his car as he can in a few runs, and set the race track record in 9'747. He obtained the third position on the grid, right behind local drivers Mario Di Bella and Christian Baeriswyl.
During the final, after a hard battle with Christian who definitely made NO MISTAKE to let a chance to Lionel to pass him in the first final, Lionel find a small possibility to pass him in the second and third finales, to finish on the overall second place.
Well, second place is really good as Lionel used the race to do many tests (tire additive and springs), that people usually don't made during an event.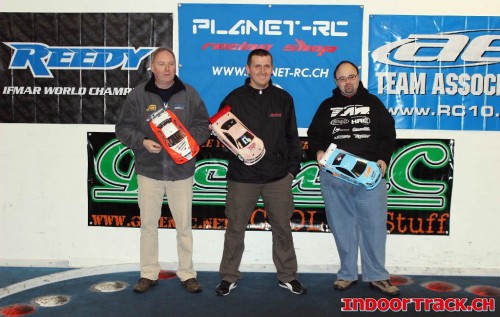 Final Result – Touring ProStock:
1.  Mario Di Bella
2. Lionel Troyon – Team Magic E4RS II / Reedy / GreenRC
3. Christian Baeriswyl
4. Marc Grindat
5. Michael Krebs
6. Daniel Koch
7. Denis Pirotta
8. Cyril Leoncini – Team Magic E4RS II
9. Urs Bernet
10. Andreas Ebener
11. Adrian Leuenberger
Pictures courtesy of Indoortrack.ch (Facebook page)