Team Magic and HRC Distribution are proud to announce the all new Team Magic E4JS II in the market of performing entry-level 1/10 Touring Cars.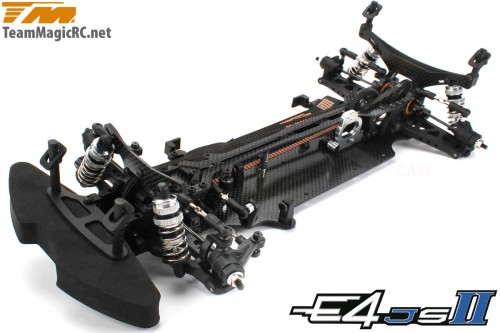 This new car is based on multiple National Champion E4RS II and E4RS II EVO racing cars, with a fantastic and incredible retail price of 189CHF / 149EUR in Switzerland and Germany !!
At Team Magic we don't think only to the top competitors, but also about the club racers and casual drivers, who race for pleasure and friendly competition without having to pay out excessive sums to have high quality material nor have to spend hours of maintenance between two days of training.
For these drivers, we have created the E4JS II which is based on the ultra performant E4RS II and E4RS II Evo platforms, which have already more that proven their ability in competition.
To lower the costs, we did not compromise the quality of the materials, nor the quality of the kit. We opted to reduce the development costs by using what we already had from the E4RS II and E4RS II EVO models, using existing parts such as the E4JR and E4JS shock absorbers and created of a new type of carbon which we called "Eco-Graphite".
The new parts (upper and lower bulkheads, centre layshaft mounts, steering bellcrank) are realized in the same "HARD" plastic which has already showen its ability on the E4RS II and E4RS II EVO (arms, uprights and steering blocks).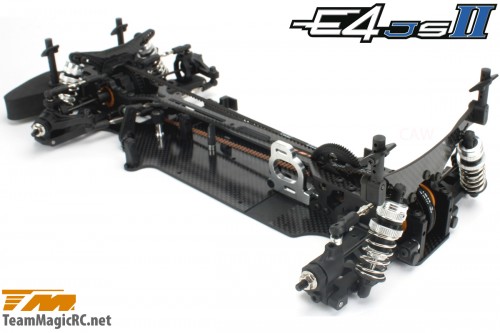 The features inherited from the E4RS II EVO:
Team Magic utilised numerous elements and parts of the E4RS II EVO to create the E4JS II, which is so in no way a touring car of reduced quality.
Identical suspension geometry to the E4RS II EVO
Centred and aligned weight
Perfectly symmetric Flex
Central flex points and 3D Flex system (optional)
HARD suspension arms, uprights and caster blocks
ST hardened steel suspension shaft
7075 Aluminium hard-coated spur gear holder
Low-Friction belts
Adjustable belt tension via eccentrics
Gear differential with 4 composite gears
Quick release battery holder
Low Friction ball bearings
Ultra free pivot balls and ball cups with minimized play
Heavy duty body posts
High density foam bumper
Team Magic E4JS II new features:
NEW – Narrow 2.3mm ECO-Graphite chassis
NEW – 2.0mm ECO-Graphite upper deck
NEW – 3.0mm ECO-Graphite shock towers
NEW – High quality constant volume shock absorbers
NEW – Matched and optimized shock springs for TC
NEW – HARD plastic lower bulkheads
NEW – HARD plastic upper bulkheads
NEW – HARD plastic ball raced steering bell crank
NEW – 7075 Aluminium motor mount compatible with brushless and brushed motors
NEW – HARD plastic centre layshaft mounts
NEW – High Quality 48DP spur gear
NEW – Steel differential outdrives for an extreme durability
NEW – Universal driveshafts
The E4JS II will be available in october 2013 – more information soon !