Hartweg R/C Distribution (also called HRC Distribution Europe) and Team Magic Model Industrial Co. Ltd. are glad to announce new distributorship basis for European countries.
HRC Distribution Europe extends his exclusive distributorship to Austria, Belgium, France (including Monaco), Luxembourg and Netherlands; with effect on 1st September 2014.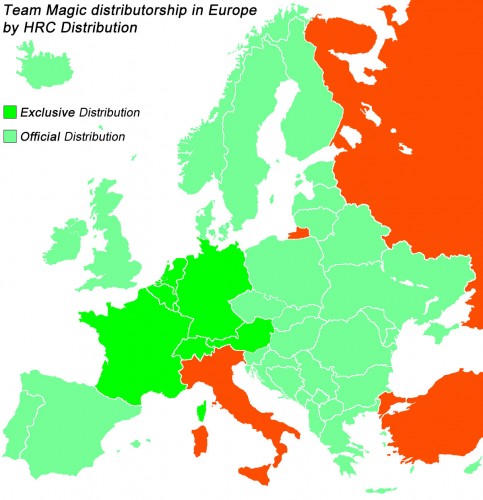 This new agreement is the result of an intensive collaboration between HRC Distribution and Team Magic:
End 2008: HRC Distribution take the distributorship for Switzerland and Germany.
Since 2010: HRC Distribution handles the Team Magic presence @ Nuremberg Toy Fair.
End 2010: HRC Product Designer Lionel Troyon help Team Magic to develop the 3 belts E4RS car in a very performing prototype project (never released).
2011: HRC Distribution is part of the development team of the E4RS II "Black Magic", and define some very special features like the "Zero Flex Interference" concept and the "Perfectly Symmetric Flex" chassis design.
2012~2013: HRC Distribution is the main contributor of the E4RS II EVO design. HRC develop the exclusive 3D Flex System and the first "Laterally Adjustable Motor Mount" on the market.
2013: With the technical advice of HRC Product Designer, Team Magic release the famous E4JS II, the perfect "club-racer" level 1/10 TC based on the EVO.
2014: With HRC Product Designer advices, Team Magic release the new E4JR II, the most performing and advanced 1/10 RTR Touring Car.
End 2014… stay tuned on HRC Blog to know our next achievement 😉
During this period, HRC Team Drivers obtained 5 national titles, a lot of regional titles and wins, numerous of podium performances; while HRC Distribution increased a lot the sales level of Team Magic in Europe.
European countries exclusively delivered by HRC Distribution:
Austria, Belgium, France, Germany,  Liechtenstein, Luxembourg, Monaco, Netherlands, Switzerland
European countries officialy delivered by HRC Distribution:
Albania, Andorra, Armenia, Belarus, Bosnia, Bulgaria, Croatia, Cyprus, Czech Republic, Denmark, Estonia, Finland, Greece, Hungary, Iceland, Ireland, Kosovo, Lithuania, Macedonia, Malta, Moldova, Montenegro, Norway, Poland, Portugal, Romania, Serbia, Slovakia, Slovenia, Spain, Sweden, Ukraine, United Kingdom.
European countries exclusively delivered by other distributors:
Italy and San Marino: Electronic Dreams SAS (http://www.electronicdreams.it/)
Russia: Micro Machines (http://www.micromachine.ru/)
Turkey: ASM Racing