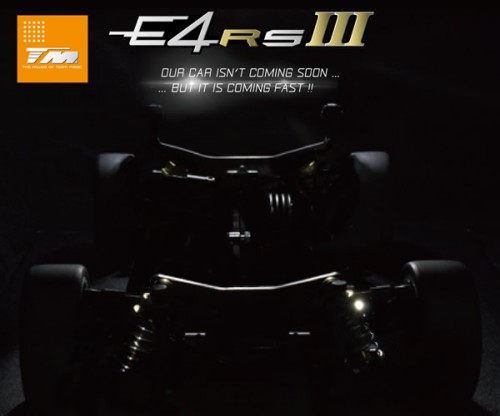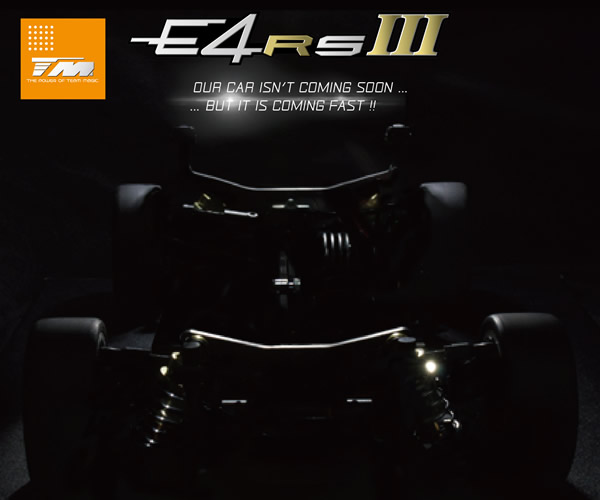 The Team Magic E4RS III will be released end of the year, probably in November.
Many things will change, it's why it's a new car (E4RS III) and not only a simple evolution of the E4RS II and E4RS II EVO.
The car has been created in collaboration with our drivers, mainly in France, Switzerland and Germany; it has been a real big job of the team, where anyone contributed to the project by sharing his idea and knowledge. The car also benefited of advices from external top drivers which also tested the car during training session; mainly in Germany.
The new elements:
New lower bulkheads, lightened and compact, with ball-raced anti-roll bar holders as we already have since 3 years in option, but this time directly on the bulkheads; and thinner belt tension adjustment possibilities.
New arm holders, attached to the chassis and no more on the bulkheads.
New upper bulkheads, with an optimized turnbuckle / roll centre position, and still one-piece for a better rigidity (one asset of the E4RS II and E4RS II EVO).
New shock towers, ultra-rigid and thick, to avoid micro-torsion during efforts.
New upper deck, higher placed for a better flex control, with a new flex point over the steering system.
New floating steering system, which don't interfere in the flex movements; and new servo ballcup, more rigid for an increased precision.
New central battery guides, and optimisation of the battery position / fixation.
New ultra-smooth shock bodies (new mirror finish and Teflon coating).
New shock upper cap, for a rebound very close to 0.
New Teflon piston shaft guides.
New ultra-resistant belts, for powerful modified motors.
New lightened middle axle mounts, that also allow to use larger spur gears for modified motors.
New rear driveshafts, with G-clips instead of small grub screw (like the double articulated front ones).
New lightened and ultra-rigid servo mount
 Elements that comes from the E4RS II and E4RS II EVO:
Hard plastic components for an optimum control of suspension movements.
Symmetric flex system, which is a key features of the car handling.
Front double articulated driveshafts, which gave us entire satisfaction.
EVO motor mount, which is the only support on the market that allow a lateral adjustment of the motor position.
Spool and gear differential, which are plenty satisfying.
Concerning the new arm holders:
This was something difficult to change; because the system of the E4RS II and E4RS II EVO was working fine, and gave us entire satisfaction in term of performance. It was simple, easy to adjust, and the small plastic holders was perfect in case of crash by preventing the axle to bend or the arms to break. This was a performing and functional system, so why to change it?
RC models isn't just performance and reliability; it's also beauty, changes, fashion and prejudices.
The E4RS II EVO with its "old school" arm mount screwed to the bulkheads wasn't very sexy and provided an image of obsolete car; that not corresponds to current standards with arm mounts attached to the chassis.
But instead of "changing to change", or more simply "changing to do like the others", we searched a mean to keep the advantages of the EVO arm mounts with the extra fin lateral setting with shims; to avoid to require 88392743932 arm mounts that corresponds to all the toe angle and possible axle positions. So, we created new arm holders with very fine and precise setting inserts.
So, we keep the same lateral setting possibilities than on the E4RS II and E4RS II EVO, with the advantage to have the new finer setting possibilities for the axle's height, as it's now with shims (instead of the old -0.75 / 0 / +0.75 arm mounts).
The E4RS III features the finer lateral setting of the market, for a car with holders screwed directly to the chassis plate; and this, only with 3 different FF and RR mounts, and 2 RF and FR mounts.
More details and pictures will come mid-October.
OUR CAR ISN'T COMING SOON …
… BUT IT IS COMING FAST !!