With 150 entries in four classes, the Winterchamps turned out to be one of Europe's biggest electric offroad races. The large indoor track offered many technical sessions and different jumps. Qualifying took place on Saturday, and the first heats began the same day and continued throughout Sunday.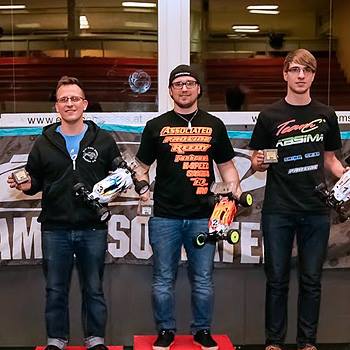 On Saturday, Team Associated / Reedy / ProLine / HRC driver Patrick Hofer entered the finals qualifying second place in 4WD Buggy and 2WD Buggy Modified classes. On Sunday, Patrick strove to win both classes.
In 4WD Modified, the two greatest contenders, Oliver Scholz and Patrick Hofer, gave the spectators a great fight, but Patrick won the race, taking the overall win.
In 2WD Modified, Oliver Scholz won the race, followed by Patrick in second.
Patrick raced the Team Associated B44.3 and B5M buggies, both powered by the Reedy Blackbox ESC and Reedy batteries. Thanks to the EFAC-Hohenems club for a great race.
4WD Podium:
1. Patrick Hofer – Team Associated B44.3 / Reedy / ProLine / HRC
2. Markus Metsch
3. Oliver Scholz
2WD Result:
1. Oliver Scholz
2. Patrick Hofer – Team Associated B44.3 / Reedy / ProLine / HRC
3. Fabian Luca Widmer