A few weeks before the season change, from outdoor to indoor, HRC development staff is working hard with Team Magic to bring you the best material and technical choice possible.
Here some pictures from our european development team.
Aluminium Chassis:
Optional aluminium chassis is now in test procedure. This would be probably available in October.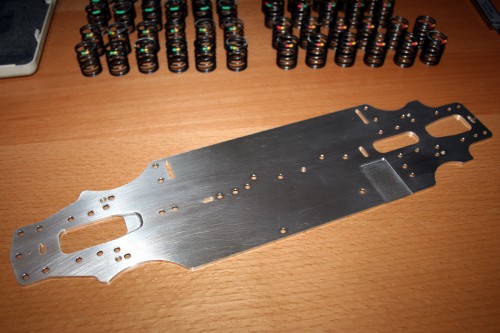 Reference will be:
TM507341 – Option Part – E4RS III – Aluminum 7075 – 2.0mm Chassis
Of course, definitive version will be black anodized.
Roll-Center Spacers:
Definitivelly, the washers are very boring to use to set the roll center on the E4RS III, and many users and team drivers are going crazy with !!
These smart and easy-to-use inserts will help us a lot to perfectly set the roll center.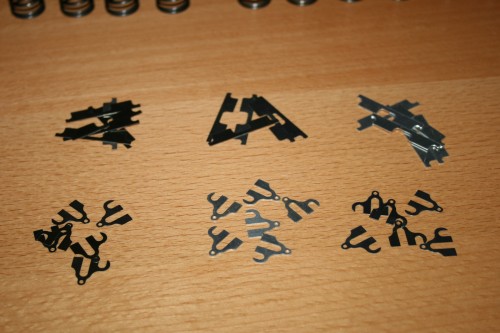 References will be:
TM507350 – Suspension Mount Spacer Set 0.10mm (2 pcs FF/RR and 4 pcs FR/RF)
TM507351 – Suspension Mount Spacer Set 0.25mm (2 pcs FF/RR and 4 pcs FR/RF)
TM507352 – Suspension Mount Spacer Set 0.50mm (2 pcs FF/RR and 4 pcs FR/RF)
New C-Hubs and Steering Blocks:
C-Hubs have been reinforced, to prevent breakage; while Steering Blocks have been modified to increase steering angle.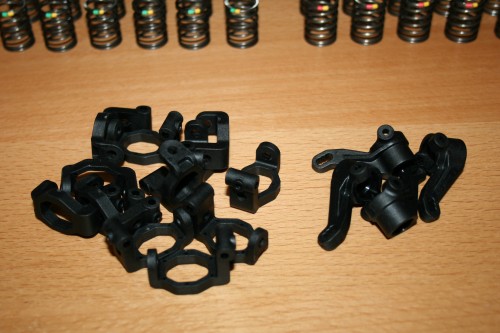 References will be:
TM507362 – Caster Block 4° – HARD (2 pcs)
TM507363 – Steering Block – HARD (2 pcs)
New – 1/10 Touring Spring Sets:
This is the end of a 3-years job on springs. After measuring and studiying almost all springs on the market, and after hours, days, months of tests, we are extremely pride to announce the release of 2 futur sets of 1/10 TC springs.
One set will be composed of 5 linear springs; and the second set will features 5 progressive springs; all are "ultra fine tune" style.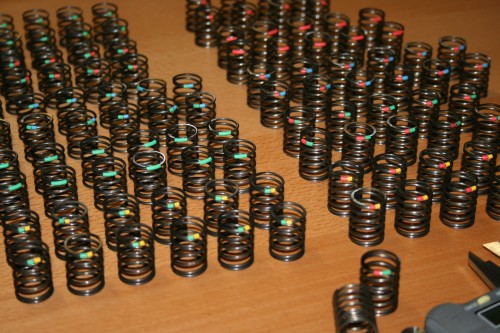 Note: springs color isn't definitive… and stiffness color code is also only for tests.
Of course, these springs will work perfectly on many car brands.