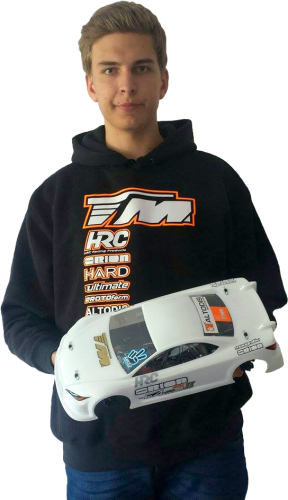 Our factory team driver, Léo Arnold, decided to concentrate his efforts in 1/10 Nitro and 1/8 Nitro categories. Unfortunately, both Team Magic and HRC Distribution don't have the necessary kind of material to continue with Léo in nitro categories.
Due to that, we all decided to terminate our collaboration at the end of September, just a few days before the release of E4RS III Plus, for which he collaborate in the development.
We wish all the best to Léo to find a good sponsor for his main categories, and to obtain the great results he deserve.
We also thanks him a lot for all the great moments we had with him. Our doors will stay open for him.
Good luck Léo !
Here: the statement of Léo Arnold:
"The last two years with Team Magic and HRC crew was absolutely great and pleasant for me. The TM touring car provided me my three first national wins in electric touring, and 2 ETS finals in ProStock 2015 and Modified 2014. So, I was very happy with my material; but unfortunately, I can't stay with Team Magic and HRC for the next year, as I want to focus me on 1/8 and 1/10 nitro categories.
 I respectfully thanks Kevin Ting from Team Magic (Taiwan), Stefan Hartweg from HRC Distribution (Europe) for the great support, and Lionel Troyon for his help and mechanics during the ETS series. I wish them all the best for the future.
 Léo Arnold"