New Team Magic E4RS III obtained frantastic results since his release in march 2015; with national wins in France, Nertherlands and Switzerland, as well as ETS A-finals in Germany, Italy and Luxembourg.
During these 6 first months of Racing with the E4RS III, we studied some solution to increase more and more this level of performance, and developped some new optional parts, which will be soon available.
So, the new Team Magic customers could get these improvement directly in the E4RS III kits, now called E4RS III+ (Plus). For the E4RS III owners, we will release all these parts in a E4RS III+ (plus) upgrade kit.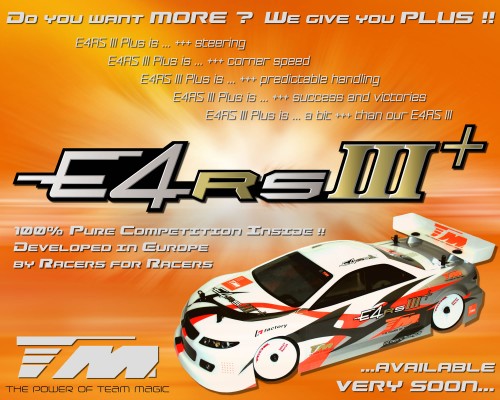 What is E4RS III+ ?
NEW Reinforced C-Hubs to increase durability and steering precision
NEW Revised Steering Blocks for increased steering angle
NEW Front and rear Zero-Play suspension Arms for more precise handling
NEW 2.5mm Chassis for quicker flex and steering response
NEW Revised front FF arm mount position, to increase setting possibilities
NEW front FR one-piece arm mount, for better steering control
NEW FF/RR arm mount spacers, to fine tune roll center in a easy way
NEW FR/RF arm mount spacers, to fine tune roll center in a easy way
NEW front anti-roll bar hex pivot ball
NEW reinforced rear driveshafts
NEW reinforced upper bulkheads
NEW front arm inner suspension axles
NEW aluminium pivot balls for suspension arms
Stay tuned to get + !!
+++ Steering +++ Corner Speed +++ Predictable Handling +++ Success and Victories