This is the feedback of Rémi Callens (former European Champion), who tested one of the Team Magic E4RS III aluminum prototype chassis, during two rounds of indoor French championship in Modified category, in parallel to other tests made by two other team drivers in France and in Switzerland.
Note to francophone people: version français plus bas.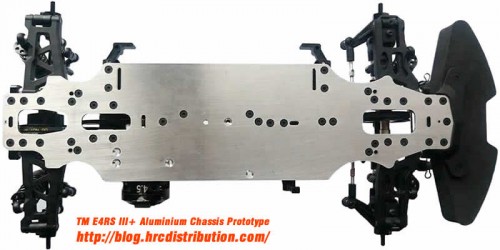 Intro:
Small return on the last two rounds of the winter French Championship. The return to the carpet for E4RS III! The final test of the aluminum chassis!
TEST 1 – Montbrison:
During the first round in Montbrison, on 31 October and 1St November, the circuit has proved to be technical with very tight turns, therefore need to find a fast car, with important turning radius.
Practices were rather promising, the carpet has some grip and multiple settings may be tempted. Unfortunately, at the time of the qualifications I am not able to find a healthy car and fast, it is either one or the other, and 2 tenths of a second by lap at this level is very important. I try so many things during qualifications until I find the right settings in the fifth and final round. It was not counting on a few minor errors on my part that it prevent me from achieving a better position that the 8th place at the start of the finals.

However, I can see a positive point, indeed the car behaves perfectly and the aluminum chassis acts as a really hoped, it allows the car to be accurate in every turn, more or less tight, while remaining easy to drive.
The start of the finals is given, the first run is awesome, the car responds perfectly to each turn, is amazingly simple and allows me to finish 3rd, a good start! A little more than one hour later, this is the second run of final, unfortunately I do not feel in shape, fatigue, due to the short previous nights and traveled 800kms, comes play a crucial role in the end of the day. Migraine causes, so I misses the last two races while committing a few small errors that once more do not forgive at this level of competition. I finish then 7th in the general with a 3rd place in the first final and two 9th places in the last two finals.
The aluminum chassis kept its promises and proved to be very efficient!
———————————–

TEST 2 – Loos:
Second round of the winter French Championship, on 21 and 22 November, at Loos, my club which I am the vice – president. From Montbrison, I spent my time to organize different events that my own club have to do, on 8 November for a friendly round, the round of the French Championship, as well as an important off-road race counting near 110 drivers the following week. Suffice to say right away that time was not in the preparation of the car, and it has been.
Let's start this round by control practices, where I clearly spent more time to help the organization than in the stands. Control practices have not been at the height of what I was hoping but results were not catastrophic, probably due to my knowledge of the track and the carpet.
Qualifications, however, not happened for the better, not at all. Lack of concentration and settings still perfectible, I make many small errors and finish 10th in the qualifying then, but my lap times showed that I could hope to be in the top of the race, too bad but consistency remains the essential point of a race, it's my fault.

For the finals, in addition to the aluminum chassis, I try TM prototype springs, starting 10th, it is an opportunity to try out them!
In the first final, the car is awesome, fast, constant, I begin a comeback though vainly, the level is very high, each driver to catch is difficult and I'm stuck behind Maxime Favrelle in 6th position, a little slower than me but who defends himself incredibly well. Then I spend half of the run in its wheels to seek the right way to pass him without finding it, I finished 6th in the first round of finals.
During the second run, the car still respond as well, it is perfect, quick and easy to drive, if I had known I give these springs before during the qualifications! Anyway, I try to make a comeback again and then finished 5th in the second final run, 5 min being too short to expect better when we see minor gap in time between each driver.
In the last round, it was more complicated, a little clash in the beginning of the race made ​​me lose my concentration and I finished the round committing some mistakes, nothing too serious because of the good previous finals and more than satisfactory performance of the chassis.
So I close this round of the winter French Championship in 6th position with the feeling that the car is working better and better. And this is without counting on the E4RS III Plus, coming very soon, which will bring us better performance for sure!
———————————–
Thanks therefore to Team Magic, HRC and Lionel Troyon who trust me to make some test with this chassis which has already proven its value!
Note: following these diverse tests, the aluninum chassis is now available under the reference  TM507341.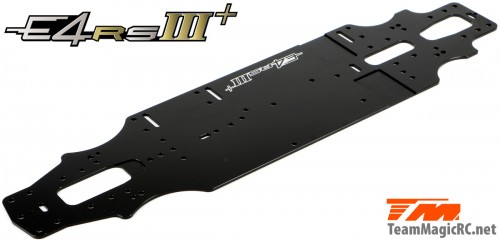 —————————————————————–
Original Text in French:
Feedback de Rémi Callens, qui a pu tester l'un des châssis aluminium prototype de la Team Magic E4RS III, lors de deux manches de championnat de France indoor en catégorie Modified, en parallèle d'autres tests réalisés par deux autres pilotes du team en France et en Suisse.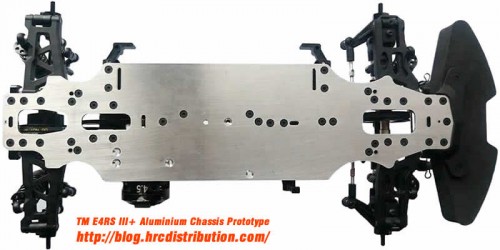 Intro:
Petit retour sur les deux dernières manches du championnat de France hivernal. Le retour à la moquette pour la E4RS III ! Le test définitif du châssis aluminium !
TEST 1 – Montbrison:
Lors de la première manche à Montbrison, les 31 octobre et 1er novembre, le circuit s'est révélé être technique avec des virages très serrés, il fallait donc trouver une voiture rapide, avec un important rayon de braquage sans que l'arrière ne décroche à chaque virage.
Les essais ont été plutôt prometteurs, la moquette possède une adhérence certaine et plusieurs réglages peuvent être tentés. Malheureusement, à l'heure des qualifications je peine à trouver une voiture saine et rapide, c'est soit l'un, soit l'autre, et 2 dixièmes de seconde par tour à ce niveau-là ne pardonnent pas. Je tente donc plusieurs choses durant les qualifications jusqu'à trouver les bons réglages dans la cinquième et dernière manche. C'était sans compter sur quelques erreurs mineures de ma part qui m'empêcheront d'atteindre une meilleure position que la huitième place au départ des finales.

Un point positif en ressort pourtant: la voiture se comporte à merveille et le châssis aluminium joue vraiment le rôle espéré, il permet à la voiture d'être précise dans chaque virage plus ou moins serré, tout en restant facile à piloter.
Le départ des finales est donc donné, la première se déroule à merveille, la voiture réagit parfaitement à chaque enchaînement, elle est d'une facilité étonnante et me permet de terminer troisième, un bon début ! Un peu plus d'une heure plus tard, voilà la deuxième manche de finale, malheureusement je ne me sens pas en forme, la fatigue, due aux courtes nuits précédentes et au 800kms de route parcourus, vient jouer un rôle primordial dans la fin de journée. Migraine oblige, c'est ainsi que je passe à côté des deux dernières manches en commettant quelques petites erreurs qui une fois de plus ne pardonnent pas à ce niveau là de compétition. Je termine alors septième au classement général avec une troisième place dans la première finale et deux neuvièmes places dans les deux dernières finales.
Le châssis aluminium a tenu ses promesses et s'est révélé être très efficace !
———————————–

TEST 2 – Loos:
Deuxième test, lors de la manche du championnat de France hivernal, les 21 et 22 novembre, à Loos, mon club dont je suis le vice-président. Depuis Montbrison, j'ai passé mon temps à organiser les différentes compétitions qui se déroulent dans mon club : une course amicale, puis la manche du championnat de France, ainsi qu'une importante course de buggys comptabilisant près de 110 pilotes la semaine suivante. Autant dire de suite que l'heure n'était pas à la préparation de la voiture, et cela s'est ressenti sur la piste.
Démarrons cette manche par les essais, où j'ai clairement passé plus de temps à aider à l'organisation que dans les stands sur mon auto. Les essais n'ont pas été à la hauteur de ce que j'espérais mais les temps n'était pas non plus catastrophiques, sûrement dû à ma connaissance de la piste et de la moquette.
Les qualifications, quant à elles, ne se sont passées pour le mieux, pas du tout. Manque de concentration et réglages encore perfectibles, je commets beaucoup de petites erreurs et me retrouve donc dixièmes à l'issue des qualifications alors que mes temps au tour démontrent que je pouvais espérer être dans les quatre premiers. Dommage, mais la constance reste le point essentiel d'une course, c'est de ma faute.

Pour les finales, en plus du châssis aluminium, j'essaye des nouveaux ressorts encore en phase de test chez TM, en partant dixième, c'est l'occasion de les essayer !
Arrive donc la première finale, le châssis se comporte merveilleusement bien, rapide, constant, j'entame une remontée tant bien que mal, le niveau est très élevé, chaque pilote à doubler est une épreuve difficile et je me retrouve coincé derrière Maxime Favrelle en sixième position, un peu moins rapide que moi mais qui se défend incroyablement bien. Je passe alors la moitié de la manche dans ses roues à chercher l'ouverture sans jamais la trouver, je termine alors sixième dans la première manche de finale.
Lors de la deuxième manche, la voiture réagit toujours aussi bien, elle est parfaite, rapide et saine. Si j'avais su, j'aurai passé ces ressorts plus tôt ! Quoi qu'il en soit, je repars pour remonter dans le classement et termine alors cinquième dans cette deuxième manche, 5 minutes étant trop court pour espérer mieux quand on voit les faibles écarts de temps entre chaque pilote.
Dans la dernière manche, c'était plus compliqué, un accrochage au début à vite eu raison de ma concentration et j'ai ainsi terminé la manche en commettant quelques erreurs. Rien de bien grave compte tenu des bonnes finales précédentes et aux performances plus que satisfaisantes du châssis.
Je termine donc cette manche du championnat de France sixième avec le sentiment que la voiture fonctionne de mieux en mieux. Et c'est sans compter sur la E4RS III Plus qui arrive très prochainement, qui nous apportera à coup sûr des performances encore plus élevées !
———————————–
Merci donc à Team Magic, HRC et Lionel Troyon qui me font confiance afin de mettre à l'épreuve ce châssis aluminium prototype, qui a déjà prouvé toute sa valeur !
Note: suite à ces divers tests, le châssis aluninium est maintenant disponible sous la référence TM507341