Patrick Hofer dominates all classes at the second round of the 2012 1/10 Off Road Swiss Championship at Hohenems with his Team Associated B4.1 and B44.1 cars !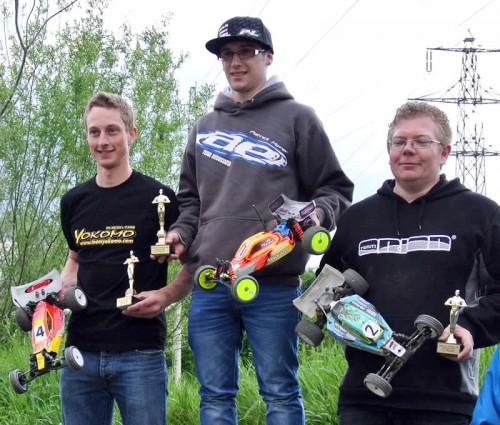 Saturday was rainy and used as practrice day.
Sunday was dry but the temperature did not reach more than 14°C. Patrick Hofer showed again his driver performance placed his B44.1 and B4.1 on TQ in 4wd and 2wd modified.
Patrick started both 2WD and 4WD categories from TQ and won the overall race in the two classes !!
Final Ranking 2WD:
1. Patrick Hofer – Team Associated B4.1WC / ProLine
2. Peter Forster – Yokomo
3. Sven Zünd – Kyosho
Final Ranking 4WD:
1. Patrick Hofer – Team Associated B44.1 / Proline
2. Michel Buschor – Durango / Novak
3. Sven Zünd – Kyosho