Team Magic Europe is very proud to announce the first Team magic Workshop, organized with the great help of TM Belgian driver Pasquinel Neys, on the EZ Racing Track, near Antwerp, in Belgium; the 17 and 18 December 2016.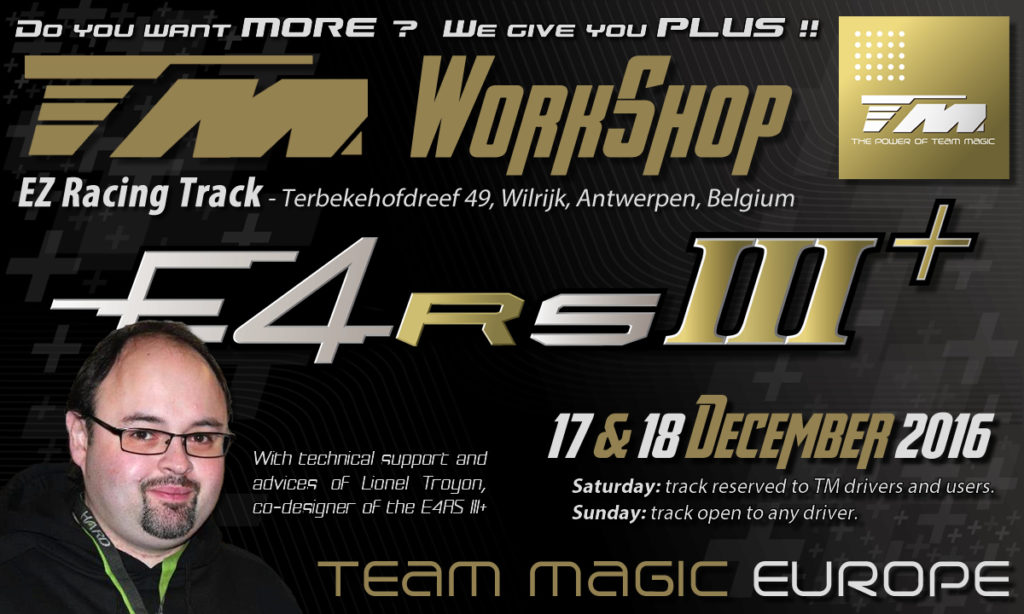 Many Team Magic drivers already confirmed their venue, like Patrick Gassauer, Jacques Libar, Rob Janssen, as well as TM drivers from Belgium, Netherlands and Germany.
This event will be a very good opportunity to meet other TM drivers and users, and is open to all TM divers and customers on Saturday and Sunday; and also to all drivers of any other brand on Sunday. Don't hesitate to join us !
EZ Racing Track use same carpet than ETS series, which offers a very good grip level and perfect car driveability.

Useful Information:
Saturday: hall is open from 10:00 to 20:00 (reserved for Team Magic users only).
Sunday: hall is open from 9:00 to 18:00 (open to any driver).
Track location: EZ Racing Track – Terbekehofdreef 49, 2610 Wilrijk, Antwerpen (B).
Track fee: 8 euro for one day / 15 euros for the two days, as exclusive profit of the club.
Carpet: same carpet than ETS series.
Hotel Information:
Some drivers of the team booked at Hotel "Bristol Internationaal" – Edegemsestraat 1, 2640 Mortsel. This seems good in term of quality and price.