Team Magic dutch drivers Richard Arts, Ronald Arts and Rob Janssen participated the second round of MRC Vianen Cup in Netherlands.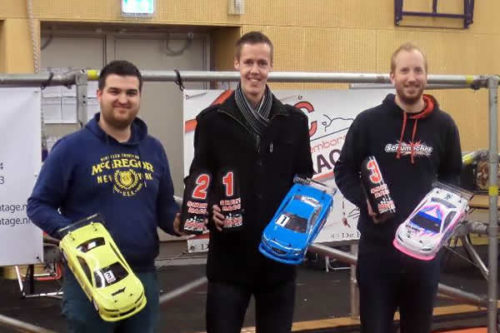 Rob qualified his TM E4RS III Plus on the second position and won the race, while his teammates Ronald and Richard Arts finished respectively at the fourth and sixth place.
Original report from Rob Janssen:
I did not feel well Saturday but Sunday morning I felt good enough to go racing. Still not 100% but racing needs to go on  !
It was a busy race with many people attending it, around 60 in 4 categories. On a not permanent indoor track here in the Netherlands that is huge !!
Before qualifying started I have been able to quickly do a few laps to run in some new tires. It did not felt great but had good hope with some more additive on it in first qualification it would be good.
It was OK, but missed a lot of traction compared to last time I was there. It was good enough to secure a spot in the A-main Top 3.
So for second qualification I decided to give a try on my old tires from last race. This felt how it should feel, really good. I made a small mistake by rolling over once, this costed me around 1 second. At the end I came in second, 0,08 seconds behind Robert Krens.
All three finals I needed to start from second spot.
In the first final we had a clean start but after 2 laps I was a bit surprised about the lack of cornerspeed from Robert so hit him from behind. I waited and both continued on 2 and 3 but next corner Robert immediately made a mistake so I continued on second spot chasing Wesley.
It was not very hard to close the gap but it was hard to pass him. Eventually he entered the corner going on the straight very tight so I expected a wide exit from him. This happened so I crossed back and was able to make it a body to body side by side to the end of the straight with me on the insight/good side. From here I finished the race in first.
In the second final I was really close behind Robert the first few laps. Now knowing to take it easy in some corners to prevent hitting him again. After a few laps he rolled over so I made a pass. He staid close behind me untill the end but never had the chance to make a move. So after two finals the win of the day was secured.
Third final was again with a great start. At the end of first lap Robert took a very wide line end of the straight so I made a clean & quick pass and stayed in the lead from there. At the end I lapped all cars once or more because there were some battles going on which costed them a lot of time.
Starting second but finishing first in all thee finals felt really great ! Again really happy with the car !
I look forward to the TM meeting next weekend in Antwerpen. See you there !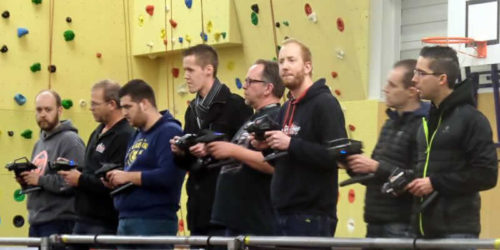 Original report from Richard Arts:
On Sunday, the MRC Cup race started "hot" as there was no practice scheduled before qualifying.
The first of 2 qualifying rounds was not so great for me. I managed to roll the car 3 times, and ending up on the roof 2 times. This of course resulted in a lot of time lost. 
Having only 1 qualification remaining, it was important to have a clean run, for any chance to make the A-final. I managed to stay out of trouble and posted the 5th fastest time overall.
Having secured a spot in the A-final, I focused on improving the setup and tire prep. The grip was not so high as during the last race,  and I was missing corner speed. 
Start of the 1st final went okay,  but an early mistake sent my car of the track,  and I had to rejoin dead last. The different tire-prep improved the grip, but was dropping off at the end of the run. I finished in 8th position in finale 1.
During the second ant third final I was able to drive cleanly. Setup changes did improve the car and I was able to stay close to the front runners. But still suffering too much drop off in the last couple of minutes, I was not able to overtake. 
Overall this resulted in a 6th place.
A bit disappointed with the end result, but still it had nice race with great atmosphere.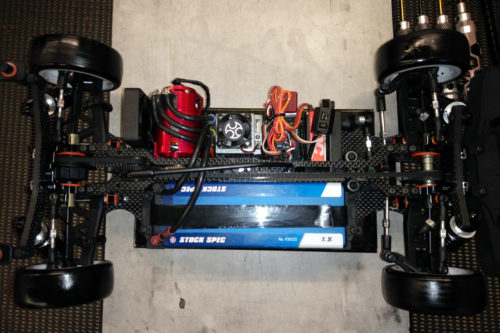 Well done guys, this is another great result, with the overall win and the 3 cars in A-main !
Overall Ranking:
A – 1. Rob Janssen – Team magic E4RS III Plus
A – 2. Wesley Van Dijken
A – 3. Robert Krens
A – 4. Ronald Arts – Team magic E4RS III Plus
A – 5. Michel Peterse
A – 6. Richard Arts – Team magic E4RS III Plus
A – 7. Joop Voorn
A – 8. Eric Mulder
B – 9. Jan Kraanen
B – 10. Rick Van Den Akker
B – 11. Michel Van Der Velden
B – 12. Dave Lunenburg
B – 13. Bert Geurts
B – 14. Maarten Coenen
B – 15. Jan Van Goor
B – 16. Nico Beijerbacht
C – 17. Roel Jongenelis
C – 18. Harry Veldman
C – 19. Remco Mutsaerts
C – 20. Rick Arendsen
C – 21. Marco Van Leeuwen
C – 22. Yoeri Methorst
C – 23. Jeroen Van Outvorst
C – 24. Jos Van Riel