last week-end was the  fourth and last round of the very popular Winter Series of the MRC Longwy.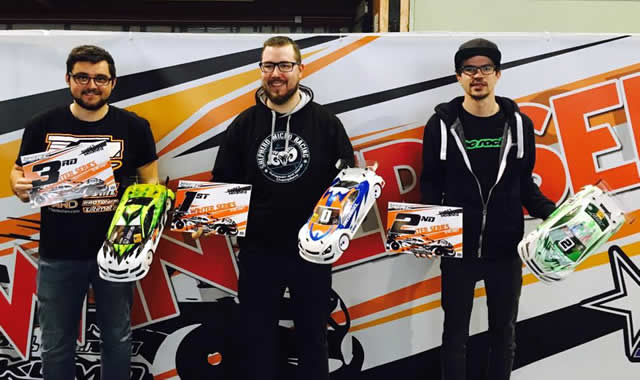 In Modified Category, Rémi Callens, finished on the third place of the podium with his Team Magic E4RS III Plus behind Olivier Bultynck and Lucas Urbain, a very nice result.
In Stock Category, no Team Magic E4RS III Plus on the podium, but the satisfaction to have the most represented car on the A-final, with 4 cars.
In Superstock Category, Stefan Rommens just missed the podium, and finished on a nice fourth place. Luca Becker wins the B-final.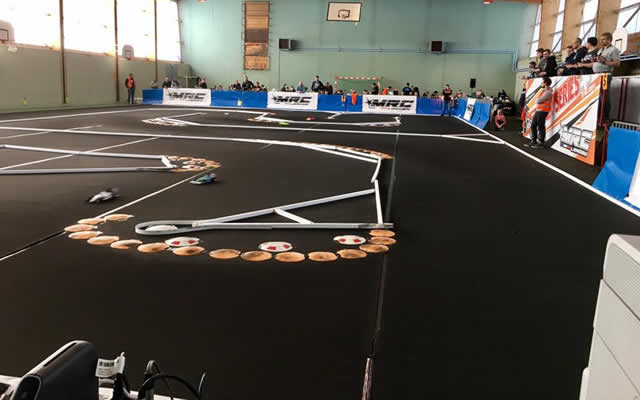 Overall Results – Modified:
A – 1. Olivier Bultynck
A – 2. Lucas Urbain
A – 3. Rémi Callens – Team Magic E4RS III Plus
A – 4. Nicolas Delisé
A – 5. Thomas Stenger
A – 6. Patrick Beck
A – 7. jonathan gergen
A – 8. Laurent Libar
A – 9. Jacques Libar – Team Magic E4RS III Plus
A – 10. Sébastien Lafrate
Overall Results – Stock (10.5):
A – 1. Jan Bickendorf
A – 2. Richard Volta
A – 3. Joe Streff
A – 4. Alexander Becker
A – 5. Jacques Libar – Team Magic E4RS III Plus
A – 6. Dirk Rischard
A – 7. Jérémy Clavey – Team Magic E4RS III Plus
A – 8. Laurent Mille
A – 9. Dejan Schoenfeld – Team Magic E4RS III Plus
A – 10. Stefan Rommens – Team Magic E4RS III Plus
B – 11. Marc Schilling
B – 12. Gilles Choque
B – 13. Carsten Neudeck – Team Magic E4RS III Plus
B – 14. Patrick Beltrallo
B – 15. David Moysan
B – 16. Germain Geyer
B – 17. Marcel Dubru
B – 18. Garbi Patrick
B – 19. Nicolas Lemoine
B – 20. Göschl Christian
C – 21. Gilles Hendrickx
C – 22. Christophe Choque
C – 23. Jean Michel Ajdnik
C – 24. Yannis Alexandre Faivre
C – 25. Gerry Kimmel
C – 26. Arnaud Brassart
C – 27. Daniel Steinlen
C – 28. Steve Bernar
C – 29. Frederic Vallejo
C – 30. Christophe Deliege
D – 31. Paul Volckaert
D – 32. Christophe Lefebvre
D – 33. Eric Schaal
D – 34. Julien Bec
D – 35. Yannick Pasquier

Overall Results – SuperStock (13.5):
A – 1. Manuel Wagner
A – 2. Alexandre Duchet
A – 3. Mathieu Picaude
A – 4. Stefan Rommens – Team Magic E4RS III Plus
A – 5. Hai Long Tran
A – 6. Carsten Neudeck – Team Magic E4RS III Plus
A – 7. Jörg Mayers
A – 8. Eugene Orer
A – 9. Michael Ribault
A – 10. Andre Klink
B – 11. Luca Becker – Team Magic E4RS III Plus
B – 12. Jeremy Ribault
B – 13. Christophe Charlier
B – 14. Julian Garbi – Team Magic E4RS III Plus
B – 15. Théo Francois
B – 16. Brice Deliege
B – 17. Jannick Rommens – Team Magic E4RS III Plus
B – 18. Philip Nemec
B – 19. Cyril Menuge
B – 20. Sebastien Ribault
C – 21. Andreas Hecker
C – 22. Barbosa Salgado Paulo Ricardo
C – 23. Nicolas Vallejo
C – 24. Bertrand Amory
C – 25. Paulo Conde
C – 26. Stefan Becker
C – 27. Dryss Faivre
C – 28. Rui Nogueira
C – 29. Christophe Bach
C – 30. Vincent Nonnenmacher