The Winter Series of the MRC Longwy club is now one of the most popular series that shares drivers from France, Belgium, Luxembourg and Germany. This week-end was the long awaited round 1, with not less than 102 drivers, in 4 categories (Modified / 10.5 / 13.5 / Rookie).

Team Magic Highlights:
Ladies First: Marina Baczkiewicz wins the Rookie Class, a very nice result for the young lady 😉
Comeback: former French National Champion, Nicolas Schwendimann, made his comeback during this race, after one complete year and half off. Nicolas qualified his E4RS III (first version, with old prototype parts) in A-final, and finished overall sixth ! Welcome back Nicolas !! Very happy to see you back 🙂  Good job !
Great Team: 15 drivers was racing there with a Team Magic E4RS III Plus, in every class. New Belgian team drivers have been surprised and very happy to obtain many help and advises from top drivers like Jacques Libar and Philipp Walleser. We are very happy to  have feedbacks about good teamwork like that. Thanks to all drivers for that.
The Race:
In Rookie Category, as said before, Marina Baczkiewicz wins the category with his E4RS III Plus, after good starts from the second position on the grid. She finished third in finale 1, second in finale 2, and first in finale 3 ! Raphaël Brassard and Meggy Schaal finished second and third.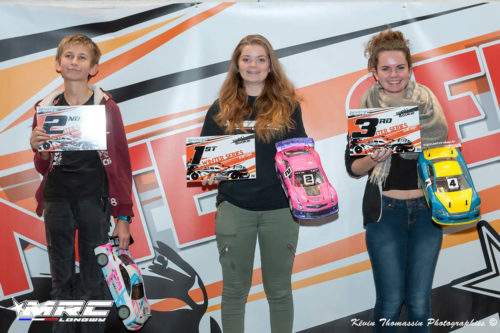 In 13.5 Category, Jannick Rommens made the A-final with his E4RS III Plus, and finished nine. Young TM drivers Julian Garbi and Aaron Vandepoele finished respectively 13 and 25. Tobias Vogel with the category, followed by Valentin Hettrich and Alexandre Kunkler.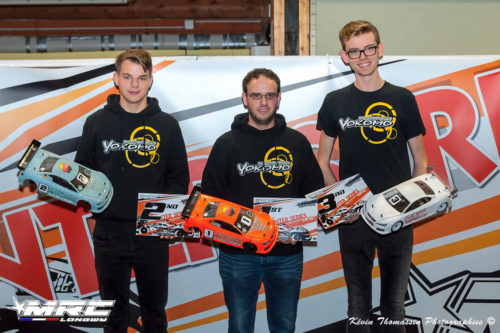 In 10.5 Category, Richard Volta wins in front of Thomas Stenger and the TM driver Jacques Libar. Other Team Magic drivers made great results; with the 4th place of Philipp Walleser, and Nicolas Schendimann 6th in A final. In B final, Dejan Schoenfeld finish 12, followed by Jérémy Clavey 13 and Carsten Neudeck 14; Mathieu Picaudé 17. Stefan Rommens finished 27, and Christophe Loget wins the D final (31).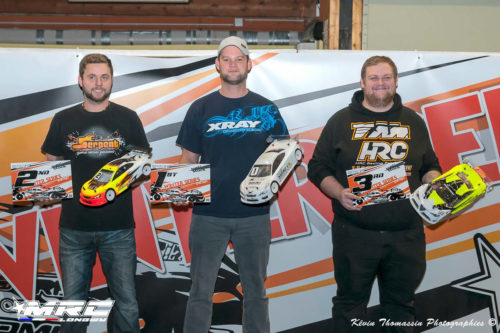 In Modified, Lucas Urbain wins the race, followed by Tim Wahl and Loïc Jasmin. Cyril N'Diaye had some troubles in the two last finales, after finished third in the first finale; he obtained the 4th place, which is a nice result as he wasn't there on Saturday for training, and Jacques Libar finished 8th.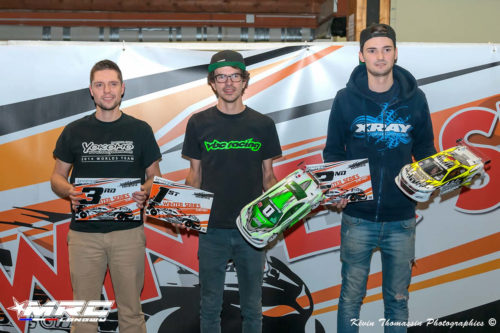 Ranglist – Rookie:
1. A – Marina Baczkiewicz – Team Magic E4RS III Plus
2. A – Raphaël Brassart
3. A – Meggy Schaal
4. A – Frederic Hendrickx
5. A – Sabrina Lenelle
6. A – Prescilia Melacotte
7. A – Leo Pasquier
8. A – Axel Moysan
9. A – Ludovic Hoffalt
10. A – Nolan Gressel
Ranglist – 13.5:
1. A – Tobias Vogel
2. A – Valentin Hettrich
3. A – Alexandre Kunkler
4. A – Clemens Neubert
5. A – Hannes Soyke
6. A – Philipp Schulte
7. A – Jörg Mayers
8. A – Luca Becker
9. A – Jannick Rommens – Team Magic E4RS III Plus
10. A – Cyril Menuge
11. B – Michael Ribault
12. B – Théo François
13. B – Julian Garbi – Team Magic E4RS III Plus
14. B – Brice Deliege
15. B – David Dupenloup
16. B – Steve Bernar
17. B – Bertrand Amory
18. B – Nicolas Vallejo
19. B – Krist Bultynck
20. B – Philippe Nemec
21. C – Jeremy Ribault
22. C – Pasquale Amato
23. C – Dryss Faivre
24. C – Paulo Ricardo
25. C – Aaron Vandepoele – Team Magic E4RS III Plus
26. C – Christophe Bach
27. C – Sebastien Ribault
28. C – Vincent Nonnenmacher
29. C – Pascal Heyart
Ranglist – 10.5:
1. A – Richard Volta
2. A – Thomas Stenger
3. A – Jacques Libar – Team Magic E4RS III Plus
4. A – Philipp Walleser – Team Magic E4RS III Plus
5. A – Alexander Becker
6. A – Nicolas Schwendimann – Team Magic E4RS III
7. A – Jeremy Delalondre
8. A – Joe Streff
9. A – Dirk Rischard
10. A – Özer Yürüm
11. B – Gilles Choque
12. B – Dejan Schoenfeld – Team Magic E4RS III Plus
13. B – Jérémy Clavey – Team Magic E4RS III Plus
14. B – Carsten Neudeck – Team Magic E4RS III Plus
15. B – Florian Joos
16. B – Marc Schilling
17. B – Mathieu Picaude – Team Magic E4RS III Plus
18. B – Nicolas Lemoin
19. B – David Kottus
20. B – Patrick Beltrallo
21. C – Jacky Mannes
22. C – Patrick Garbi
23. C – Andre Klink
24. C – Christophe Charlier
25. C – Steve Traufler
26. C – Michael Schröder
27. C – Stefan Rommens – Team Magic E4RS III Plus
28. C – Yannis Alexandre Faivre
29. C – David Moysan
30. C – Eric Schaal
31. D – Christophe Loget – Team Magic E4RS III Plus
32. D – Gerry Kimmel
33. D – Paul Volckaert
34. D – Arnaud Brassart
35. D – Marcel Dubru
36. D – Gilles Hendrickx
37. D – Christophe Choque
38. D – Laurent Treis
39. D – Christophe Lefebvre
40. D – Stefan Ruff
41. E – Jean Michel Ajdnik
42. E – Xavier Nicolle – Team Magic E4RS III Plus
43. E – Frederic Vallejo
44. E – Fabrice Gottscheck
45. E – Sébastien Iafrate
46. E – Yannick Pasquier
47. E – Guillaume Nicolle
48. E – Olivier Cros
49. E – Raphaël Chovet
Ranglist – Modified:
1. A – Lucas Urbain
2. A – Tim Wahl
3. A – Loic Jasmin
4. A – Cyril N'diaye – Team Magic E4RS III Plus
5. A – Manuel Wagner
6. A – Olivier Bultynck
7. A – Dennis Kalinowski
8. A – Jacques Libar – Team Magic E4RS III Plus
9. A – Nicolas Delisé
10. A – Hugo Ragaut
11. B – Maximilian Stähle
12. B – Jonathan Gergen
13. B – Florian Joos
14. B – Laurent Libar