French ace, 3-time French Champion and multiple French Vice-Champion, ETS modified A-finalist and Euro Finalist, Cyril N'Diaye, joins Team Magic / HRC factory team.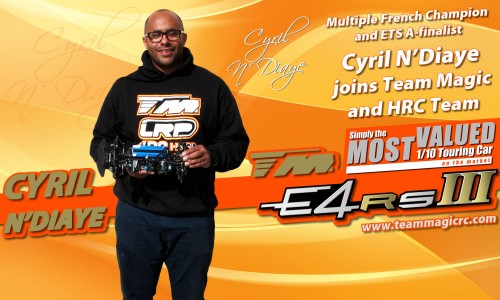 Cyril N'Diaye statement:
"I had the opportunity to test the car of Léo Arnold during French Nationals at Tours in June, and I was very impressed by his corner speed and overall handling. After the French Cup in September, Lionel Troyon gave me a E4RS III kit to make some tests at my local track.
I like the feeling I have with that car, and his overall handling and great precision. I also like the way the team works, very close to TM factory. So I decided to joins the team. I thank Team Magic and HRC team for this great opportunity.
I also would like to deeply thank Yokomo Team for the 5 last years with them. I wish them all the best, especially to Ronald and Umino for the next worlds in Beijing."