For the second time in a row, Team Magic ace Rob Janssen is crowned DUTCH NATIONAL CHAMPION in 1/10 Touring Car category. Last year in modified, this year in 13.5 stock category, as modified isn't available in Netherland anymore.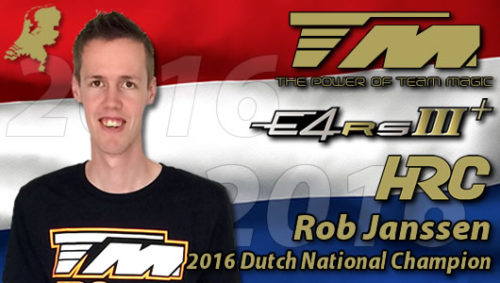 This title is the result of a nice cooperation between Rob and his Dutch teammate and friend Richard Arts, who worked hard together to bring the Team Magic E4RS III Plus on the top at every national and local races.
GREAT JOB ROB AND RICHARD !
Team Magic material used by Rob:
TM507008 – Team Magic E4RS III Plus Touring Car Kit
TM153010 – PRO Linear Touring Car Springs Set
TM153020 – PRO Progressive Touring Car Springs Set
TM507343L – Aluminum Fan Mount for 40mm Fans
And also HRC Racing Spur Gears and Protoform Bodies.