Another great performance for Simon Allemann, Team Magic & Reedy driver, at Langenthal for the third round of Swiss Championship.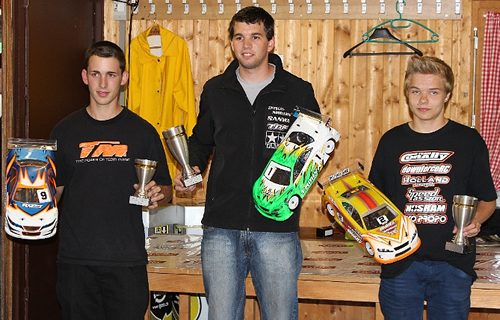 After bad qualifications due to a crash with a slower driver the saturday, and to the rain on sunday morning, Simon started only 9th the final rounds. So, finishing 3rd is a very good result with these conditions.
Teammates Fabien Valantin finishes 4th, Lionel Troyon 10th as he had many problems with sensor connectors during the finales, and Jordy Dubuis finishes 11th after a great battle with Markus Heubi.
ProStock Category Results:
1. Marco Siegenthaler
2. Fabian Widmer
3. Simon Allemann – Team Magic E4RS II / Reedy
4. Michi Koch
5. Fabien Valantin - Team Magic E4RS II
6. Michel Grosjean
7. Roland Küpper
8. Cédric Brütsch
9. Tom Eicher
10. Lionel Troyon  - Team Magic E4RS II / Reedy